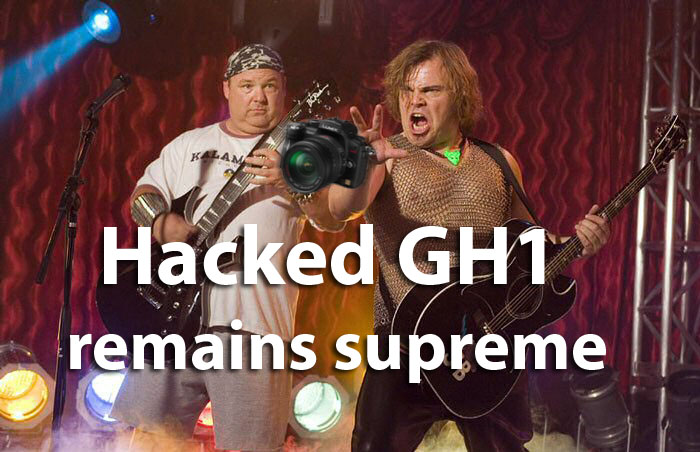 It is now late 2010. We've seen all the new HDDSLRs (vDslrs) for the year. As usual, we continue to see the same old problems come up in new models, and even other new problems arise as well. Here's why the Hacked GH1 is still your best bet.
Hacked GH1 vs GH2
Admittedly we've seen very little sample footage from the new camera. But what we have seen hasn't been encouraging. Even though the bit rate has been increased and the codec has been fixed, the samples that are available show the following:
1. Codec falling apart in pans
2. Crippled HDMI by blinking record icon
3. Serious amounts of edge enhancement
Sure, these may be fixed in the retail model come December, but at this point don't count on it.
Hacked GH1 vs Canon 60D.
The 60D is a perfectly viable choice if you don't have the cash for a 7D.  The image quality is good, and is exactly the same video picture that is present in the t2i, 7D and 5D. That is to say, in 1080p mode your really only getting a little better than 720p resolution, and compared side-by-side in video mode, all of the Canon cameras look blurry compared to the Hacked GH1.
Hacked GH1 vs Nikon D7000
Again we've only seen a few samples from this camera, and 2 years after the D90, Nikon has finally caught up to Canon in resolution, and moire. The D7000 and the 7D are very similar looking in video mode, which is great for Nikon to catch up, but there is certainly no reason to upgrade to this camera for it's video function over say a Canon t2i. (We are not talking photography specs here, video modes only)
Hacked GH1 drawbacks
The GH1 has no been around for over a year, and people know things can get pretty ugly.
– In the dark, FPN takes over the picture and makes it unusable outside of Neat Video.
– There is no hacked Live Video monitoring option as of yet (not holding my breath that it will ever happen)
– Audio input into the GH1 is a joke, but I think it's insane that people would try to use the camera alone for EPK stuffs anyway
– No Digital Aperture control for whiny Canon EOS and Nikon G lens owners
Still, even with these drawbacks, I dare you to compare the 1080p and 720p modes of the hacked GH1 to any other still camera available today.
Oh and I expect the AF100 to walk on water and perform all sorts of miracles, but for that we still have to wait a few months, unless Panasonic sends one our way for testing.